Honoring Humanity | Kiss The World Movement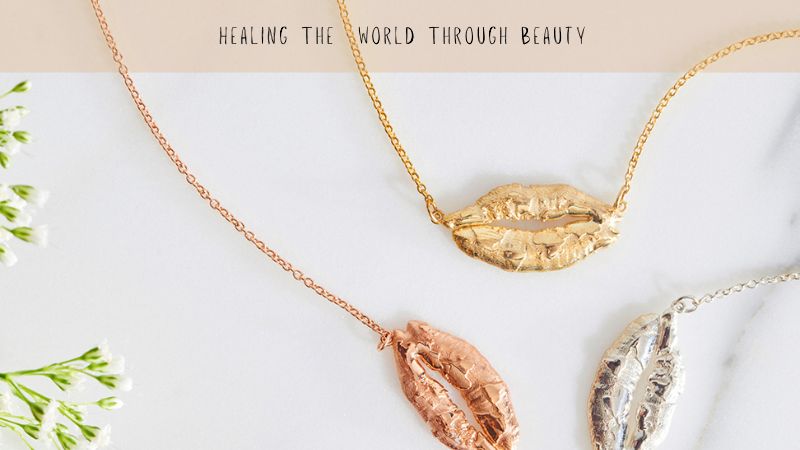 If you want to be a part of something special, something that will positively impact not only your life but leave a positive footprint on the world, we donate a percentage of each purchase to feeding America.
Kiss The World has designed unique jewelry and clothing to inspire love, care, and mindfulness in order to bring a focus of positivity in the world. Each unique item Kiss the World offers serves as a reminder that every bit of effort to heal the world counts. With its beautifully unique design it also a daily reminder that you helped feed someone, a stranger in need. We take pride in our association with the Feeding America association so we understand the beauty and inner radiance you will feel knowing you are now a part of that experience too. Every ounce of love shown in the direction to make a positive mark on the world is one step closer to our goal. Kiss The World is movement with a primary goal to add positivity in the world. Healing the world in any way possible, one design at a time. Creating designs that not only make you look good on the outside, but show you have true beauty on the inside as well.
Our Kiss the World Pendant necklaces come in two designs. The first pendant design we offer is in a beautiful handwritten style that says the words, "Kiss the World." It's smooth design that is big enough to read but doesn't overdo it in size. So, you don't have to worry about a bulky feeling while wearing it. We understand that looks and comfort go hand in hand with any quality design. The second pendant option is a unique lip shape design molded by the same print left on a napkin by the owner of Kiss the World. It was this lipstick on a napkin story that inspired this movement. The print was turned into a 3D version of itself. On the face of the design, we also engraved the continents. So, while one of our designed states Kiss the World in text, the other visually shows it. This pendant is the perfect size, making it small enough to wear comfortably with any outfit, but big enough to make that outfit pop.
Our Kiss the World clothing options ranges from shorts, tops, socks, headbands, even sleep masks. Chill comfortably in our Kiss the World apparel knowing that you helped someone today. And you can show off your good deeds when you take selfies in your new apparel showing the unique lip world graphic on each item.
We know you can never have too many t-shirts, especially when they have the cute little knot on the side like ours! Our Knot Tank with the Red KTW lippy logo shows just how beautiful giving back can be and feel. We also have regular tank tops that have a rainbow KTW lippy logo and you know we had to have a gold lippy logo version. Plus, they go perfectly with both our shorts options too! The shorts we offer can either be worn to chill around the house or worn outside. You can rock our shorts with the red KTW lippy logo, or the ones with beautiful rainbow KTW lippy logo. They also go great with our 70's white sports headband with Red KTW lippy logo headband. They can be worn with the shorts if you plan on jogging or doing any other kind of workout, or simple going for casual and comfy look. If you prefer something an even more comfortable, especially when going to bed, our cute, silky adjustable headband in a solid light purple is perfect for you. Lastly, we have our cute and comfy pink KTW lippy crew socks. With crew socks increasing in popularity, this cute and warm fashion accessory can be a great addition to your wardrobe.
As we mentioned before, Kiss The World is about positively influencing the world. Being mindful of others as well as the actions of ourselves. Spreading love and care through beauty is the goal. And with each purchase we accomplish that goal. We accomplish that goal because of you. We are all a part of the world and when we show kindness, we are showing the beauty of humanity.